DignetSoftware d.o.o. is an ISO 9001, ISO 27001, and ISO 37001 certification holder.
In order to ensure the highest quality of our services and improve the internal and external efficiency of DignetSoftware, our quality management, information security management, and anti-corruption systems have been established in compliance with ISO 9001:2015, ISO 27001:2013, and ISO 37001:2016 international standards.
Quality management and information security policies are an integral part of DignetSoftware's business policy and are a part of the company's strategic development goals.
These certifications imply that we can guarantee our clients high-quality service and continuous improvement of the company's business processes, and that we are able to warn them upfront if there is any risk of bribery.
The implementation of ISO standards is a validation of the quality of services provided by DignetSoftware. It is an international recognition that the company conducts business in compliance with regulations, and a clear statement of the company's zero tolerance policy when it comes to bribery. All these things combined are a basic requirement and foundation for the development of a high-quality management system.
The implemented system is aimed to meet customers' demands and to continuously improve processes. By implementing the ISO system, DignetSoftware has already improved its data flow, data storage and availability as well as the operation and organization of its business management.
ISO 9001: 2015
ISO 9001 is the world's most recognized Quality Management Standard (QMS) and confirms that your management system, production processes, services, and documentation meet the standardization and quality assurance requirements.
ISO 9001:2015 is a quality management system used all over the world and is applied to every organization regardless of their size or type of activity. A successfully implemented quality control system, according to the aforementioned standard, as well as conducting business in compliance with the requirements of this standard is a commonly accepted mode of operation, which helps organizations prove their continuous and consistent product or service quality to current and future customers, employees, partners, and local community.
Dignet Software 9001-2015.pdf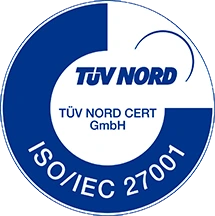 ISO 27001:2013
ISO 27001 is an information security management system. It adopts a process approach for the implementation, operation, surveillance, maintenance, and improvement of information security management systems in different types of organizations. This standard emphasizes the continuous improvement of the information security management system, clarifies the requirements related to documents and records, and includes risk assessment and process management according to the PDCA quality assurance model. Assets that require security include everything from digital information, paper documents, and physical assets to the knowledge available to individual employees. The ISO 27001 standard is necessary for providing information security in compliance with confidentiality principles to each organization. This ensures that the information is only available to authorized persons. Authorized persons are provided with the availability and access to certain information in the adequate form and when needed.
Dignet Software 27001-2013.pdf
ISO 37001:2016
ISO 37001 is an anti-bribery management system, which is a reflection of the international best practice and can be applied to all legal systems. It also helps an organization implement an anti-bribery management system or improve their existing control system, provide proof of implementation of the international best practice for anti-bribery to organization management and owners, users, and other business associates.
ISO 37001 helps prevent, reveal, and solve bribery issues no matter whether they are in relation to an organization conducting bribery or an organization receiving it for its own gain, the gain of its employees and business partners.
DignetSoftware 37001-2016.pdf